What The Heck is SBI?
SBI is an e-business all-in-one package also known as Site Build It!
SBI provides you with all the tools you need to achieve online success in your chosen e-business niche.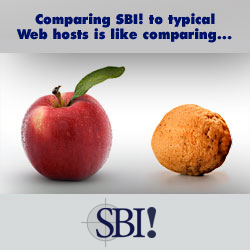 If you're looking for comparison with alternative services, there's a problem.
There really is no true alternative to SBI.
It's not a hosting service. It's not a tool set. It's a MINDSET.
It's a way of doing business that trains you to plan for success, then teaches you how to achieve that success.
Oh, and it's a hosting service and tool set as well. All in one.
Here's some recommended reading
Blog, or Build? Why build a website, when you can blog for free?
Case Studies These are REAL people, like you, who made it with SBI
Compare Oh, all right, if you INSIST on comparing SBI to other options...
Proof That's my favorite page on the SBI site. I'm not featured there, yet, but one day I will be. You can count on that.
See The Passion For Yourself
Passion is impossible to fake. That's why this video impressed me so much when I first saw it. You can tell that this businessman loves the life that SBI has helped him to create.
This video explains the "Do It For Me" SiteSell Services principle. It's essential viewing if you're a business person who needs help getting online -- or sorting out the mess the last person left you with.

Questions? Please feel free to contact me. Oh, by the way... I own nine SBI online business sites. Not that I'm biased, or anything...